EDIT MAIN
TENINO HIGH CLUBS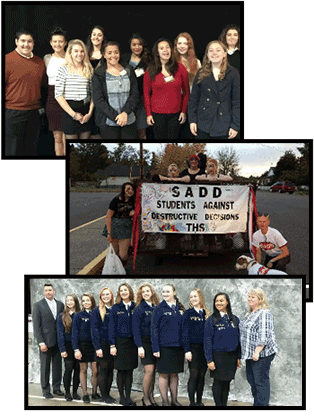 Get involved! If you join a club, think of all the new people you'll meet; think of all the fun things you'll do; think of how great you'll feel knowing that you're making our school and community a better place! Below is a list of Tenino's clubs and organizations. Join one or more this year!
Big T & Pep Club - now combined

Big T is open to all athletes who have lettered in at least one sport. The Big T club promotes teamwork and unity by participating in school and community activities. Pep Club is for students who want to help spread school spirit at THS. The Pep club is enthusiastic and supportive of athletes and other extracurricular events. Combining athletes and spirit supports seemed to be a great fit this year. Advisors: Mr. Hogue and Ms. Aarde.
Drama

Lights! Camera! Action! The drama club allows students to learn about set design, lighting, costuming, and acting. We will be going on field trips to see plays and musicals, and we will participate in improvisation activities. Advisor: Ms. Crain
Future Business Leaders of America (FBLA)
FBLA is a club that revolves around you becoming a leader within your school, community, and future career. Participating in competitions, traveling to conferences, and attending career fairs are just a few of the activities that FBLA students enjoy. Advisor: Mrs. Toms
Future Farmers of America (FFA)
Do you like to travel, make money, and have fun? Do you like to participate in community service activities as well as leadership activities? If you answered yes, the FFA club is for you! It's not just about farming any more. It is so much more. Advisor: Mrs. Maxfield
International Club
The International Club is for students who are interested in learning about other world cultures, expressions, foods, customs, and traditions. Attending cultural events and preparing cultural foods are a couple of the planned activities. Advisor: Mrs. Ford
Knowledge Bowl
Do you have knowledge and enjoy trivia on many different subjects? Knowledge Bowl is a fun way to compete on a team against different schools. Travelling and meeting new people are a couple of the perks. Competition typically includes a series of three oral rounds plus one written round. Advisors: Mrs. Blake and Mrs. Ford
Students Against Destructive Decisions (SADD)
SADD is a club that provides students with the best prevention tools possible to deal with the issues of underage drinking, other drug use, risky and impaired driving, and other destructive decisions. Conferences and student outreach programs are just a few activities we have planned. Be sure to read about the national network of SADD and about its programs. Advisor: Greg Myers