EDIT MAIN
Proud Home of the Knights
Welcome to Tenino Middle School, home of the Knights.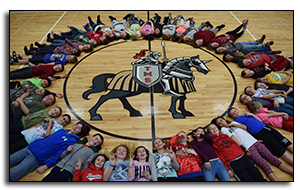 We are a 6th-8th grade school located in Tenino, Washington, a 102-year-old historic town. Our school has great community support. Parent volunteers have helped this school tremendously. We firmly believe that students excel when they know we care about them. Be assured that our teachers and staff care deeply about giving your child the best possible education.
We're glad you came to visit Tenino Middle School's online home. We hope you'll continue to stay familiar with our school. You'll find that we update calendar dates and news items regularly for your convenience. We have also made the Student Handbook available for you to download. We welcome all calls for additional questions you may have!
---
Principal's Message
Dear Parents and Guardians,
Our Tenino Middle School (TMS) students are in the last trimester for the 2016-2017 school year! TMS students are motivated and actively engaged in completing the spring smarter balanced assessment taking place in April and May. Track athletes have begun their season that will end with 7th grade districts on May 22, 2017, and 8th grade districts on May 23, 2017. Our 8th grade Knights will be celebrating their graduation on June 19, 2017, with the promotion breakfast followed by their graduation ceremony! To reflect on our amazing school year at TMS, yearbooks are available for purchase for $30 in the office! Hurry though, on May 1, 2017 the price increases to $35. As we are nearing the end of the school year, I want to wish all of our TMS Knights and their families a safe and wonderful summer!
See you soon!
John Neal
Principal
---
24-Hour Threat Reporting Hotline: (888) 287-6157
If you are aware of a potential threat of violence or suicide, please call this number to report it. The line is staffed 24 hours a day, and your call can be anonymous.
Report threats of violence
Report potential suicide
Calls can be anonymous
Information is reported directly to school administrators