Dear Parents/Guardians of Tenino Elementary Students: With our shift to a 4-day in-person learning model starting this coming Monday, April 26th, our transportation staff have worked hard to update necessary changes to morning and afternoon bus schedules to accommodate a larger number of students riding to and from school. Please take time to review the new a.m. and p.m. routes and bus stops posted on our website at
https://5il.co/pebe
if you have students needing to ride the bus as changes have been made that could affect the routes and/or stop times and locations for your student(s). If you have questions regarding your child's transportation services, please call our transportation provider, First Student, at 360-339-4370.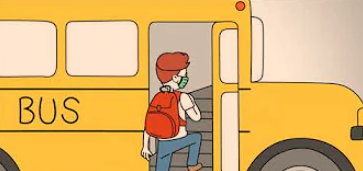 Allow additional time for drop off and pick up.

Dear Families - I am pleased to share that we are planning on increasing in-person learning to four days a week (Mon, Tues, Thurs, Fri) for all grades. Grades K-5 -- April 26, 2021 / Grades 6-12 -- May 3, 20201.
https://5il.co/rua6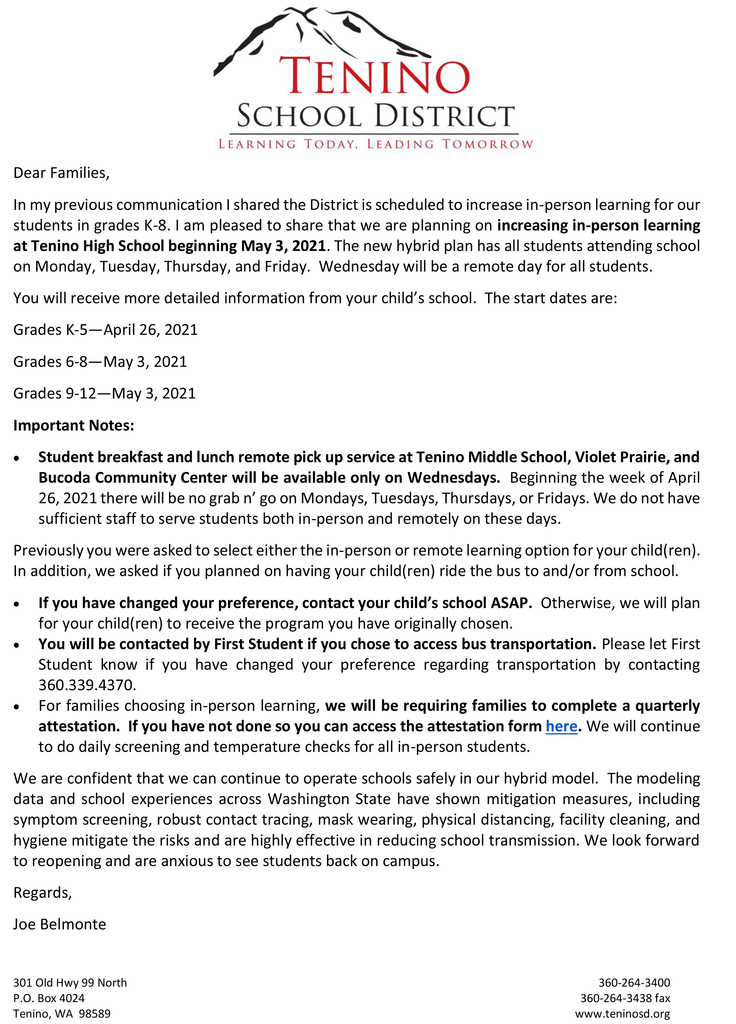 TES Virtual Talent Show (Tenino's Got Talent)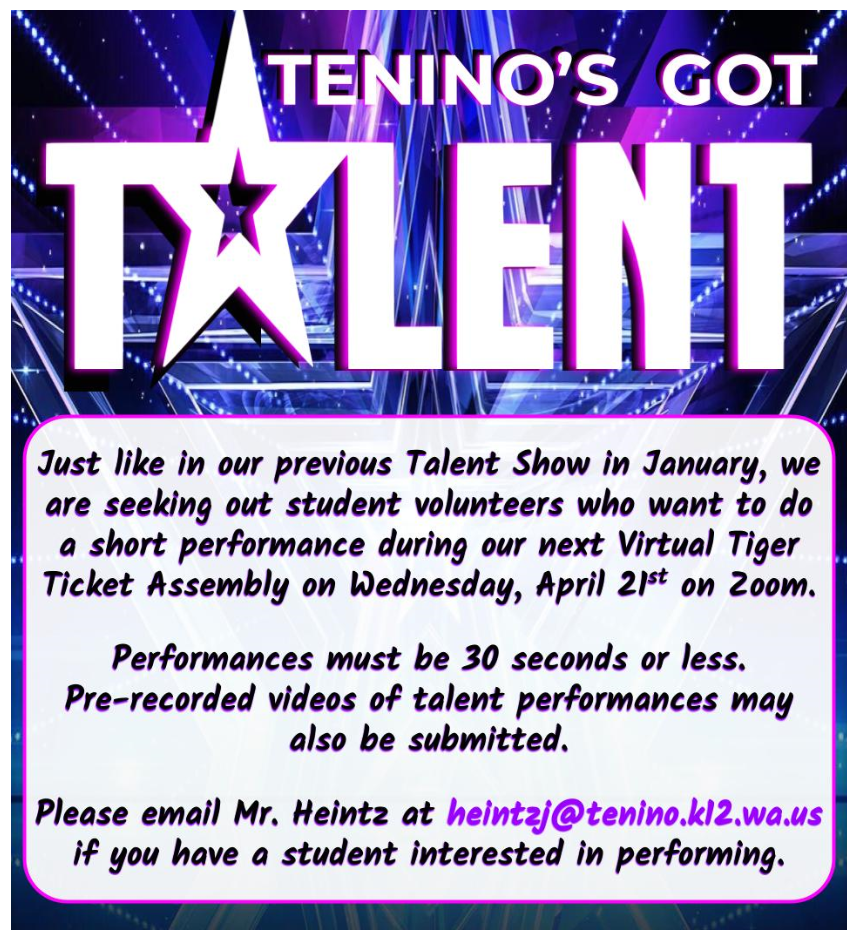 TES Spring Break Photo & Video Submissions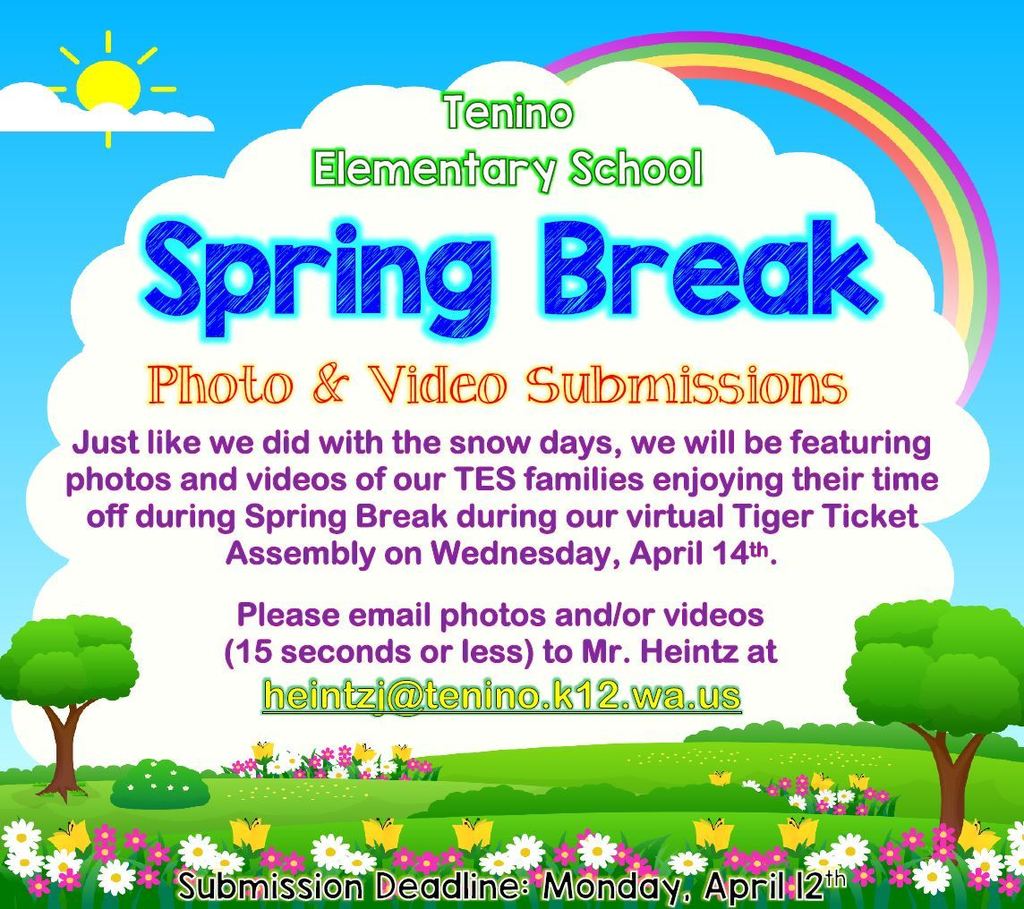 Spring Conference Update: To save learning time with students we have decided to make March 31st - April 2nd full days and not have half-days for conferences. Please contact your teacher or school office if you have questions.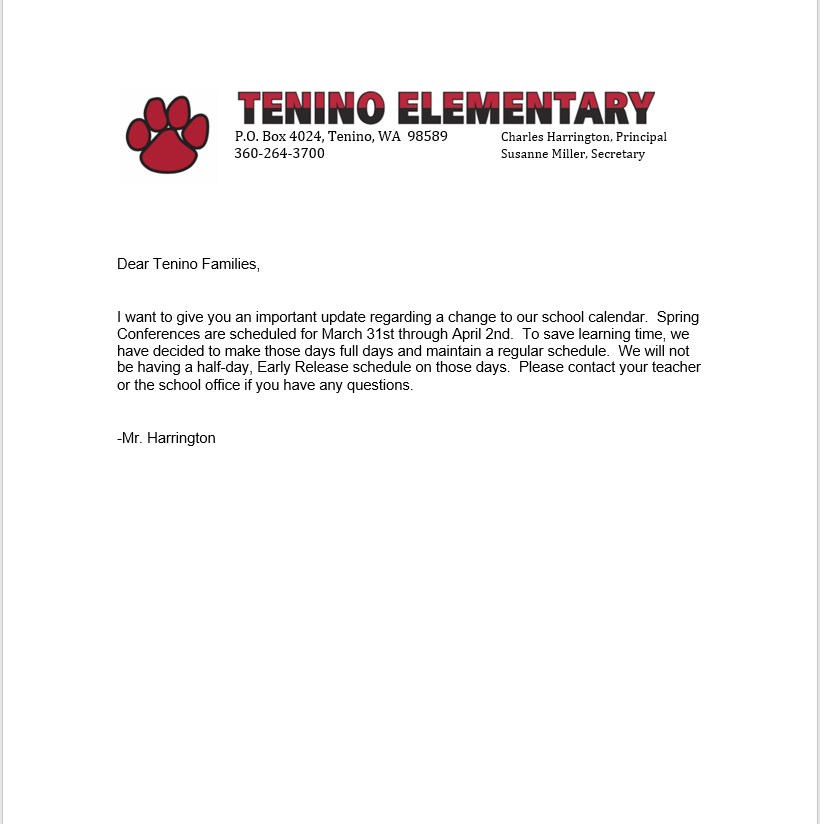 TES Spring Virtual Book Fair, March 22nd - April 4th.

Tenino Youth Baseball 2021 Season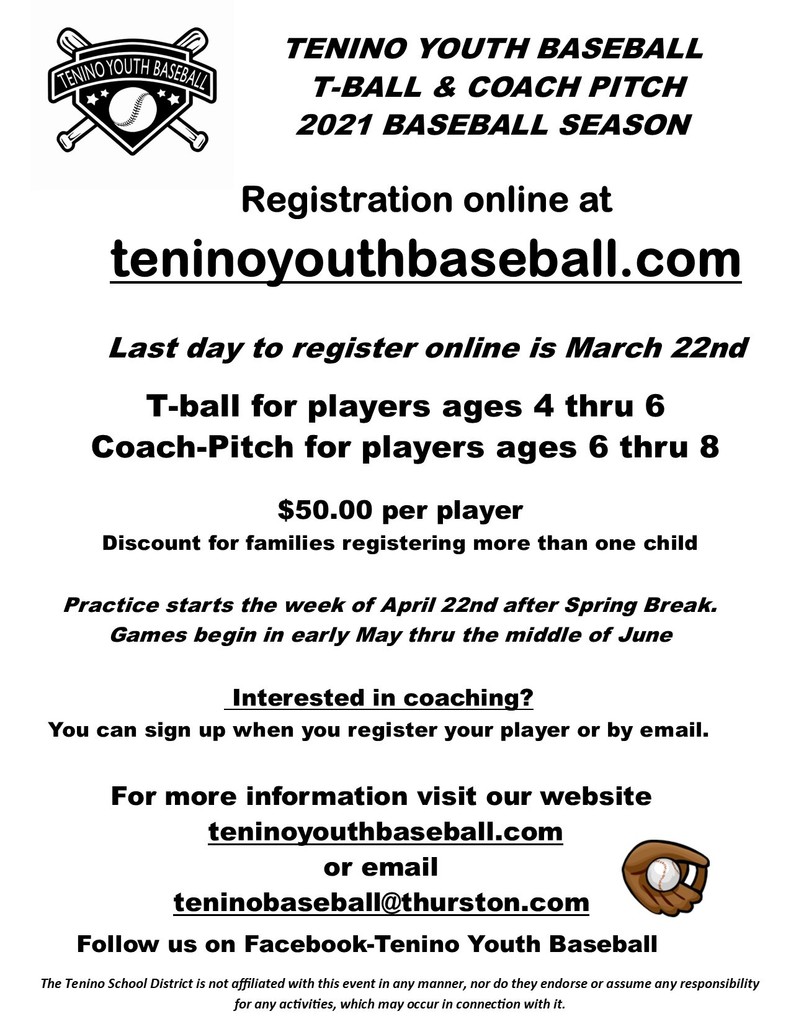 TES Snow Time

This is an emergency weather message for all T9O school district staff and parents. Due to unsafe road conditions, all in-person learning is cancelled for Friday February 12, 2021 and students will receive instruction via remote learning only. Your child's teacher will be communicating the student plan for the day. All after school activities and athletics are cancelled and there will be no grab 'n go meals available for pick up or delivery. The district office will be closed to the public. Again, all schools in the T9O School district will be closed for in-person learning; there will be remote learning only Friday February 11, 2021 due to unsafe road conditions. Thank you

Dear Parkside Elementary & Tenino Elementary Parents/Guardians: For those of you who indicated your student would be participating in our hybrid learning program starting this coming Monday, February 8th, and also indicated that your student was planning to ride a school bus, our bus route information for Groups A and B are now posted on the transportation page of the district's website at
https://5il.co/pebe
so you can help prepare your student for Monday. Please review this route information to identify the bus stop closest to your address for both the a.m. and p.m. routes for the group your student has been assigned. As a reminder, Group A students will attend school in person on Mondays and Thursdays. Group B students will attend on Tuesdays and Fridays. For any students with special needs that have already been attending classes in person with us, those attendance schedules and bus rides remain unchanged unless the school contacted you individually to communicate any changes for your child. If you have any transportation-related questions next week, please contact our transportation office at 360-339-4370. Thank you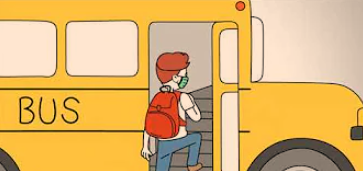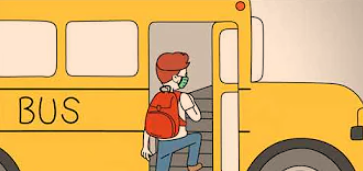 TES In Person Learning.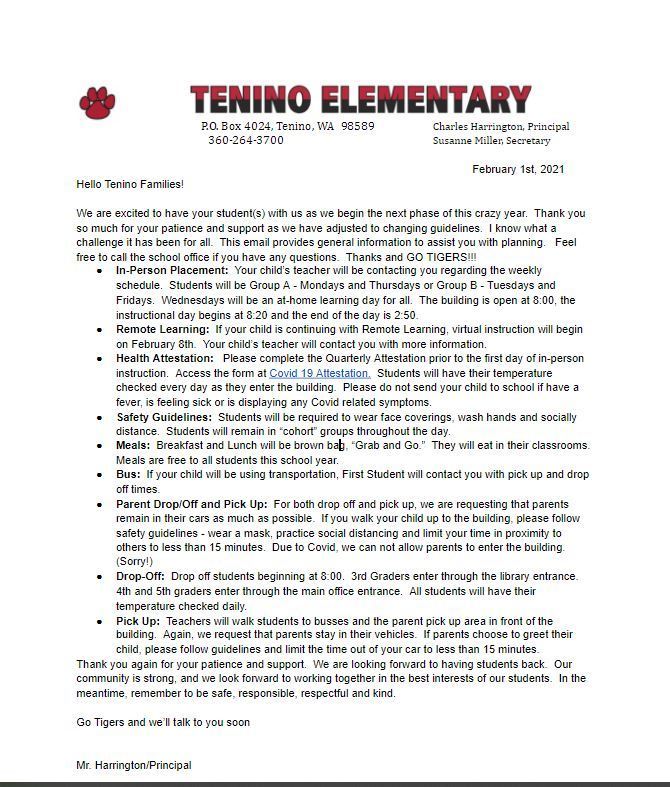 TES Tiger Ticket Talent Show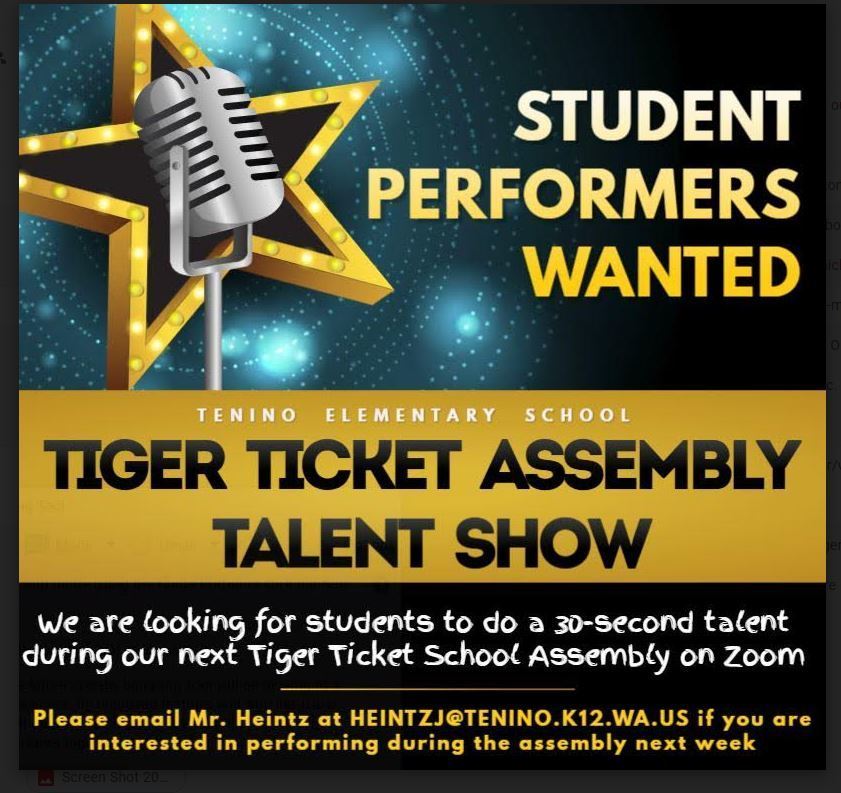 iReady Benchmark Assessments

Tenino Grand Twinkle Tour 2020 View Image for details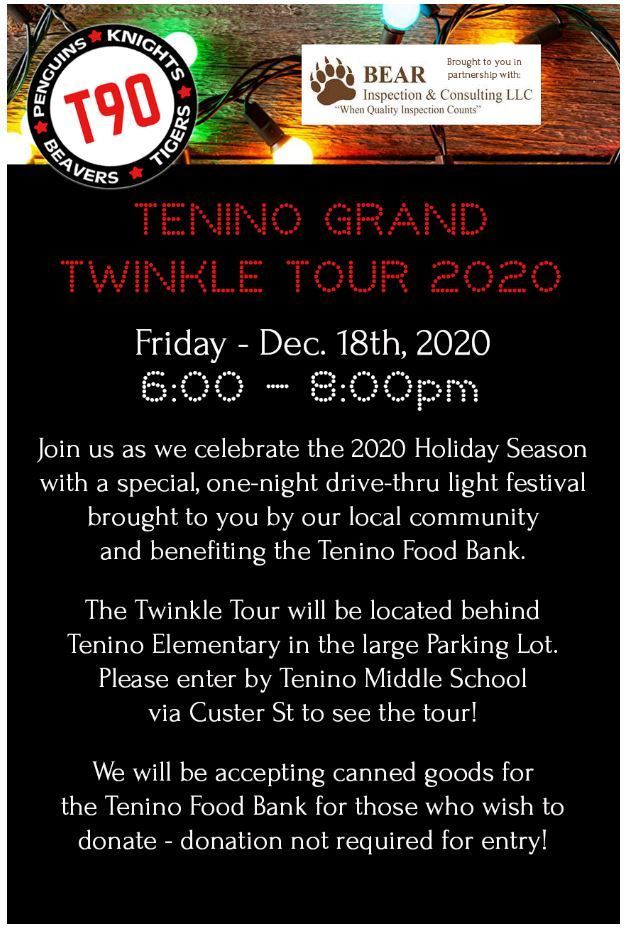 Hello Tenino Families! Fall Conferences are fast approaching! If you have not done so already, please sign up for a parent-teacher conference. Conferences are being held via Zoom. This will give you and your child's teacher a chance to share updates and set goals. Thank you very much for your hard work and support during this crazy time. Thanks and Go Tigers!!!